Mountain Girls
An Original Book by Stephanie Kadel Taras
Stephanie has written her own memoir, an award-winning personal and social history about growing up in West Virginia. Available for sale here.
When Stephanie Kadel Taras talks about her home state of West Virginia to people in her current hometown of Ann Arbor, Michigan, their reaction is predictable: "If it sinks in that I'm talking about a different state from Virginia, and which state that is, their faces suddenly change like they're thinking, 'You grew up in that place of inbred hicks and barefoot children and black lung? How did you make it out of there?'" In this thoughtful mix of memoir and social history, Stephanie asks, "How can I get back there?" Weaving seamlessly between past and present, Mountain Girls features the lifelong friendship of two girls from Elkins, West Virginia, whose resilience, humor, and creativity shape unexpected lives. Inspired by stories from other West Virginia women, they learn what generations of Appalachians have long known—it's up to you to make the life you want. Through irreverent and poignant tales of beans and cornbread, forest clear-cuts, old-time music, Scots-Irish tempers, and sex after Sunday school, Mountain Girls will make you long to be a hillbilly . . . or praise-the-Lord-and-pass-the-moonshine if you already are.
Learn More:
New! Listen to Stephanie read the opening chapter of the book in this free audio sample.
Read Stephanie's guest blog "Mountain Girls Celebrates the West Virginian Identity" about her book tour in WV and why she wrote the book (plus an excerpt!) on Dave Tabler's Appalachian History blog.
Read a book review by James E. Casto in the Charleston (WV) Gazette.
Check out this blog about the book and listen to an interview with Stephanie.
Read about Stephanie's first book signing, in her childhood hometown of Elkins, West Virginia, as covered by the Elkins Inter-Mountain newspaper.
What Readers Are Saying:
"What a fabulous book! It has everything…history, love, laughter, and the final chapter brought me to tears. I am so proud of you and your portrayal of our home state. You may have not been born here, but you are a West Virginian, and you do share the love we all have of our mountain state."


— Vicki Ballengee, Scott Depot, WV

"I feel compelled to write after spending this day devouring your book, Mountain Girls. This work resonates so deeply within me. . . I noticed the small stack of your books while having a hot meatloaf sandwich (on white bread, w/ gravy, of course) at Mamma's Kitchen, you know, down the 5 lane from Elkins. I can't wait for my wife and my kids to read it as well. . . Like your mom wanting you to experience more than 'twangy music,' my wife pushed for us to leave Elkins after 13 years of me working my [medical] practice. . . With the kids now graduated from college, and suburban life in Pittsburgh becoming mundane and stale, those mountains exerted their powerful pull indeed. . . Your book really moved me, and I am here to say, you can go home! Thanks for making my day. I am not a 'reader' per se, but today I couldn't put Mountain Girls down."— Bret Rosenblum, MD, Elkins, WV
"I had a wonderful time reading Mountain Girls! You did a beautiful job intertwining your personal stories, West Virginia history and culture, and American women's issues past and present. I hope many people will have the pleasure of reading Mountain Girls!"—Stephanie Nichols, Winchester, MA
"Mountain Girls is two things that most books are not—honest and well-written! It was also able to be autobiographical without being self-aggrandizing. For the great majority of us whose lives are not full of car chases, world championships, or awards, it also captures the universal in the quotidian."

—Joe Follman, Washington, D.C.

"I love the way you write! I got very caught up in the journey. I really appreciated the way you wove your story with the history of the area so seamlessly. It was truly a glorious read!"

—Barbara Kramer, Ann Arbor, Michigan

"Wow! I finished Mountain Girls last night when everyone else went to bed. What a great story! . . . I hope you're marketing it in West Virginia (and neighboring states) and to gals in your age group, too. I am neither, and still thoroughly enjoyed it." —Patricia Desmond Biallas, Westmont, Illinois
"I plan on passing around my copy of Mountain Girls to those geographically-challenged people who wonder what living in 'western Virginia' is like."

—Martha Hoover, Morgantown, West Virginia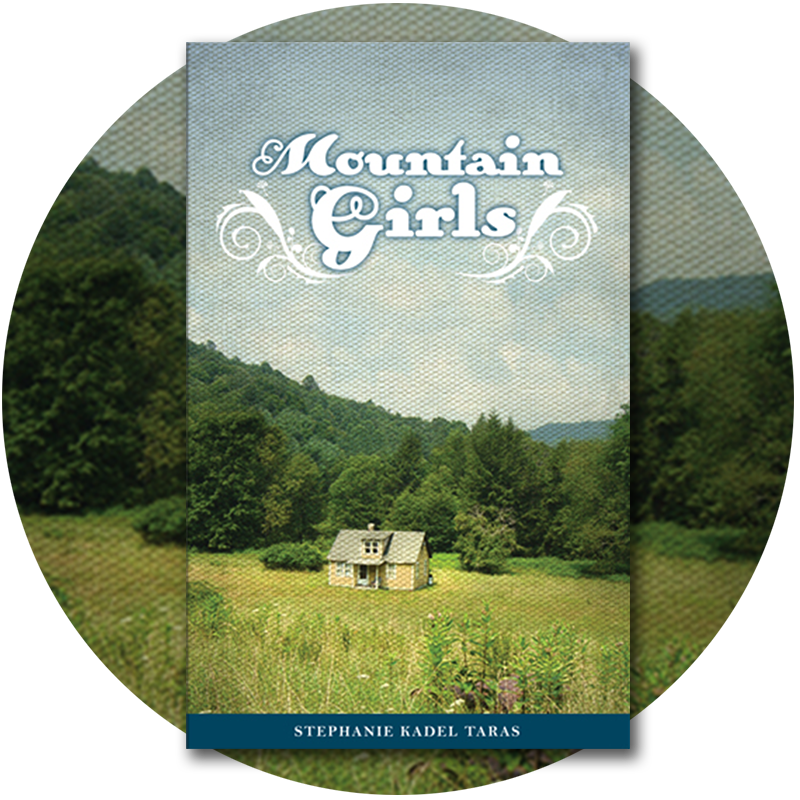 Mountain Girls, $12.99
136 pages
Published by TimePieces Personal Biographies, 2013